St. Johns in the Wilderness Episcopal Church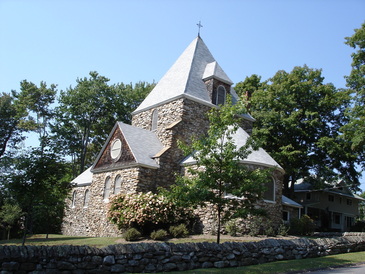 St. John's in the Wilderness was founded in 1894, and the Church is one of Eagles Mere's oldest and most beautiful buildings. St. John's is a summer chapel and Sunday services are held from the Memorial Day weekend through the Labor Day weekend. Services are generally held at 8:00 am and 10:00 am, although, during May and June, there is only a single Sunday service at 10:00 am. All are welcome!

St. John's is located on the corner of Jones and Allegheny Avenues near the Eagles Mere Post Office. Driving through Eagles Mere on PA Route 42/Eagles Mere Avenue turn onto Jones Avenue and drive to the end of the street. St. John's is on your right. 50 Jones Avenue on GPS.
---
St. John's in the Wilderness Governing Committee ​
Caroline (Cece) King, Chair
Lee Middleton, Vice Chair
Anna Hays, Secretary
Tom Burkholder, Treasurer
Jenny Coniff
Joanne Engel
Lori Faeth
Mary Anne Grabarek
Nick Hays
Ann Klotz
Anne Lloyd MacGill
Trudy Whitmoyer
Cathy Wise
Joanne Wise
Contact person:
Ms. Caroline Estey King
260 W. Hartwell Lane Philadelphia, PA 19118
215-242-2945
esteyking@aol.com
---
St. Johns in the Wilderness Episcopal Church
50 Jones Avenue
Eagles Mere, PA 17731